Our Founder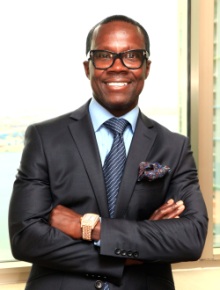 Florent Monssoh is the founder and CEO of Activ Doctors Consult, LLC and its European sister company Activ-Santé. He has over twenty years of managerial and entrepreneurial experience in IT, medical websites and healthcare software.
After receiving a degree in Industrial Information and Artificial Intelligence from L'Ecole Pour l'Informatique et Techniques Avancées (EPITA), Monssoh began his career with mainframe software developer Genlog, and in 1994 he co-founded Internet service provider Sky World. Between 1995 and 2000, he was the owner and CEO of engineering consultancy firm MGL.
Monssoh has founded or co-founded several companies, including the European Stock Exchange-quoted technology firm Aubay, making him the first French African to have founded a company that went public. The automated scheduling software he later created with consulting firm MGL has been used by France's Department of Revenue/Tax, Australia Telecom, and many organization in the United States, including the Pentagon.
Medic Services, founded by Monssoh in 2005, was the first private medical company (non-provider) in French history to employ doctors (1,800 as of today). Together with Activ-Santé, Monssoh's endeavors have led the healthcare solutions market in France. They also inspired the creation and success of Activ Doctors Online, one of the most innovating medical websites in the world.
In 2011, Monssoh was named one of South Florida's "Most Accomplished Black Executives" by ICABA Honors, which recognizes black professionals and entrepreneurs who make an empowering difference in the community. In 2012, he was named Business Person of the Year by Legacy magazine. He was also honored among a prestigious class of South Florida's "50 Most Powerful and Influential Black Business Leaders of 2012."
"The vision that took root in France, I wanted to take to other parts of the world. So my vision blossomed into something more: to see a world where medical records are stored online, so they can be accessed right when you need them, no matter where you are in the world. And where anyone, anywhere can get an unbiased second medical opinion from world-class physicians in just 48 hours. To help people be more than well – to be well prepared."