Personal Health Records
Imagine having all your medical records available at the touch of a button, wherever you are in the world. At Activ Doctors Online, we offer a secure, user-friendly and intelligently-designed Personal Health Record (PHR) that allows patients to manage and access their medical records online – 24 hours a day, from anywhere in the world.
A PHR from Activ Doctors Online belongs to the individual member and allows them complete control of their health information. A PHR therefore empowers members to make better-informed healthcare decisions, and gives them the tools they need should an emergency situation arise. Additionally, because a PHR belongs to the patient and not a physician, the medical records stay with them should the individual decide to switch doctors.
ADO helps share responsibility with patients – we collect all your medical records and upload them to make a PHR that's available anytime, anywhere. PHRs are viewable via any computer or smartphone in six different languages, meaning there will never be accessibility issues. PHRs are HIPAA-compliant and compatible with any existing Electronic Medical Records a patient may have.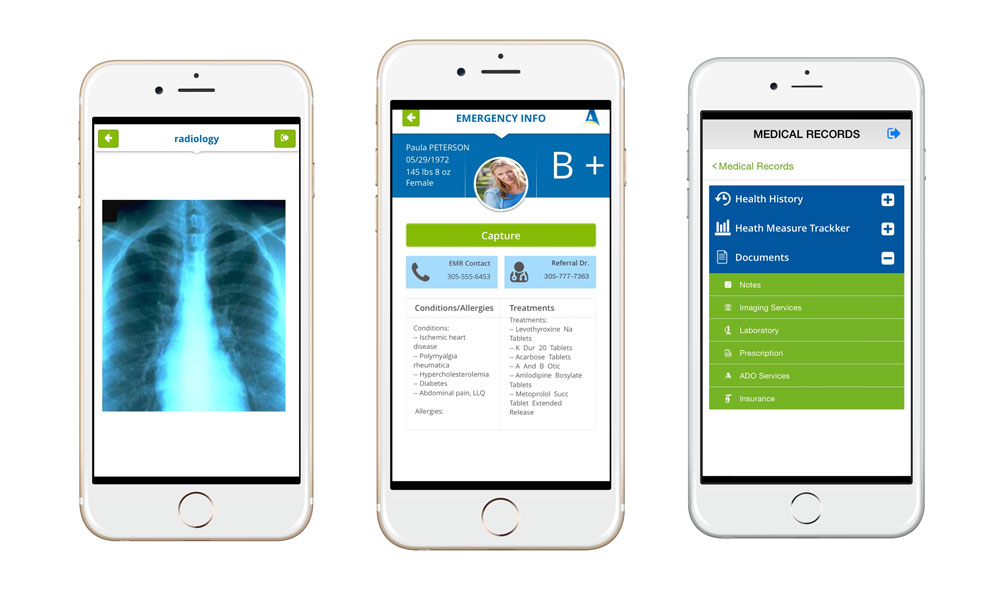 Sharing Your Health Records
ADO enables you to easily share your PHR with family members, doctors and other trusted individuals. This is advantageous for frequent travelers who need quick access to their medical records, or for users with vulnerable family members who wish to be updated on any ongoing health issues.
Security:
ADO uses Advanced Encryption Standard (AES) security protocols meaning personal data is always safe and protected. ADO members also have full control over who can view their medical records and edit data. We provide location information about where data was transferred from and who viewed it.
Additional Features
To ensure patients get the most out of their doctor visits and potentially help save money, our PHR allows members to track important medical data, prescriptions and care plans with medical records online. Our PHR platform also includes:
Health History:
The Health History page gives a summary of your medical records, providing information on blood type, any previous or current health conditions, tests, surgeries, allergies, immunizations and more. This valuable feature can help save money by preventing the need for duplicate or unnecessary tests.
Medical Documents:
ADO also provides a database of all your past medical documents such as X-rays, MRIs and doctor's notes for quick reference, at the touch of a button. Members have the ability to edit content and update medical information as and when they require.
Health Tracker:
The Health Tracker can be used to create charts that track your vital signs. Levels such as body weight, blood pressure, BMI, cholesterol, and blood calcium can be graphed out to help monitor your health. Activ Doctors Online can also send you alerts when a particular vital sign reaches a level of concern.
Reminders:
Members can also create calendar reminders for upcoming events like doctor's visits, beginning new medication and attending treatments. These health reminders can be sent via email as frequently as necessary.
ADO Will Be There for You in an Emergency