Activ Doctors Online CEO, Florent Monssoh featured in cover story of Miami Herald's Legacy Magazine
(Miami, FL) – Imagine a time in the future where you can store all your Personal Health Records (PHR) in one secure place online and access it whenever you need them. Imagine receiving a second opinion about a health diagnosis from world-class medical physicians in 48 hours or less. Or better yet, imagine visiting those same doctors online at a virtual clinic. Stop imagining. Activ Doctors Online says it is revolutionizing the healthcare industry with these innovative concepts.
Activ Doctors Online is an encrypted, password-protected electronic system that allows members to store all their medical records safely online. This enables people to access their medical history wherever there is an internet connection. Being able to provide your health history is important especially for those who often travel. You never know when you may have an emergency. If you are unable to see your primary physician, who has your medical records, unnecessary tests might be taken and vital procedures might be delayed.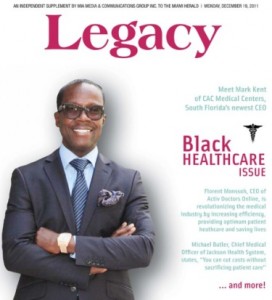 Activ Doctors Online's Executive Vice President, Bernard Lee, says storing your PHR can save you time and money. "$700 billion goes to unnecessary tests and procedures in the United States. That's literally 5 percent of the nation's Gross Domestic Product," said Lee, who was quoting the Congressional Budget Office Director Peter Orsza's 2008 study. "A PHR gives individuals knowledge of how they are spending their money and the test they are receiving from a physician."
Activ Doctors Online is the brainchild of an IT and healthcare entrepreneur Florent Monssoh. Before founding Activ, he founded several technology and engineering companies in the 1990's. In 2004, he founded Medic Services, the first medical interim company in French history to employ doctors, which currently employs about 1,400 physicians. He would later launch Activ'Santé in France, which expanded into Activ Doctors Online here in the United States. There are currently 135, 000 members in the online system and Monssoh believes there will be one million within the next 12 months.
He believes Activ is about more than making profits, it is about helping others. "We need everyone to understand what we're doing today is not for us, we're doing it to leave a legacy to help people … In the next 30 years, computer, web and IT will be a part of everything a physician will do to treat a patient. We're writing one page of the worldwide health history."
Besides storing your PHR, Activ Doctors Online says they provide members with second opinions from some of the greatest minds in medicine within 48 hours. They claim that none of their competitors offer a more thorough second opinion within that time period. The process includes two consultations, a detailed opinion rendered by specialists and a review by Activ's medical directors about your second opinion.
Activ says they only look to recruit top physicians to work within the company. All of Activ's physicians are board certified. They need to have practiced medicine for a minimum of five years, to have never lost a medical malpractice lawsuit and to pass a background check. In the United States, Activ looks to recruit physicians who graduated from the top 50 medical schools.
In January, the company will unveil its virtual clinic. This addition will make it possible for patents to visit a doctor online 24 hours a day, which Lee believes will benefit many people, especially those who earn hourly wages.
"These hoursly employees, when they miss work, never have to opportunity to get those days back," explained Lee. "Our service allways them, in many cases, not to miss days and still treat themselves and their family."
A one-year subscription to the individual PHR plan costs $149.99 but you also get one month free to try Activ. Go to activdoctorsonline.com for more information.
This article orginally appeared as an Independent Supplement by MIA Media and Communications Group Inc. to the Miami Herald, by Kallan Louis.